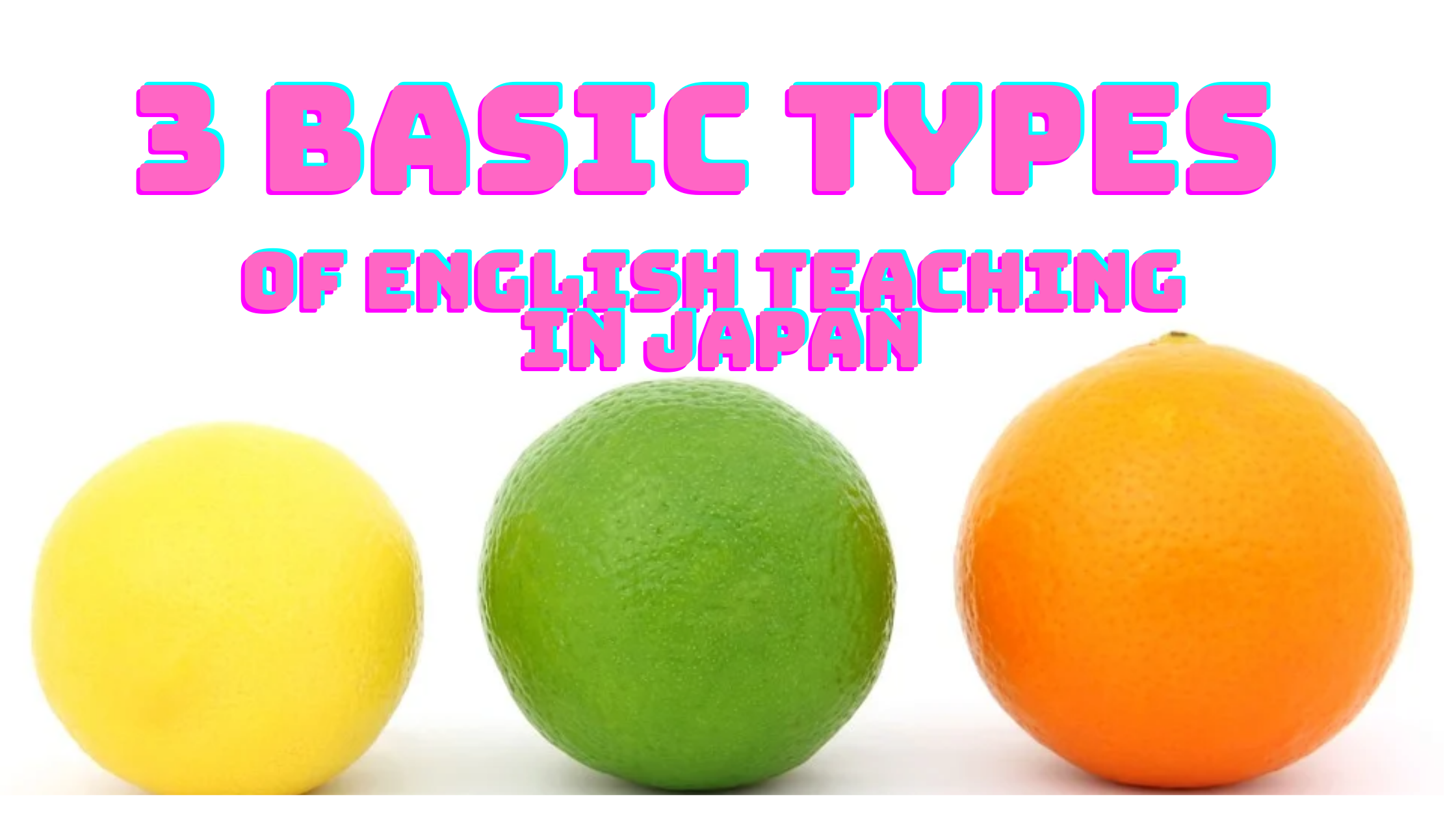 Whether you're still overseas thinking about taking the plunge and coming to Japan for a teaching job, or you're already here in Japan and looking for your next gig, it's always important to know just exactly what kind of teaching job you're actually looking/applying for. In this article, let's take a look at three of the biggest kinds of teaching jobs or tasks you'll find out there.

1)Group Lesson Teaching 

Group lessons, which can vary from just 2-3 students up to a dozen or more, are common in larger eikaiwa. Often the most economical option for students, and arguably the slowest to make language progress as well. 



What to expect:
While not so well-loved by English teachers, group lessons are affordable and attractive to lots of students. As you can imagine, the larger the group, the less time there is for individual attention to your students. It can be a juggling act to address student questions and continue to finish your group lesson plan, and to try and help stragglers while not holding the entire group back! 

Many types of group lessons expect students to practice their English on each other, meaning the overall tone of your lesson can vary a LOT by group chemistry. Someone who can lead well and get participants engaged while still keeping an eye on the clock will have no trouble here. 

2) Children's English Teaching 

Teaching English for kids is big business in Japan, and specialty schools and lessons target all age ranges from preschool up to high school. Almost exclusively in group format, teaching children entails a special 'knack' that makes them quite different.



What to expect:
Kids, especially the younger age ranges, are full of energy – the difficult part is directing that energy into their studies/speaking, and not classroom hijinks. Many successful children's teachers are energetic and outgoing types themselves, who have the reserve needed to wrangle their students daily.

If you intend to do a lot of younger children's teaching, there's a few things you'll want to get used to: singing, simple dancing, and using props in your lessons.


3) One-on-One Teaching

Teaching students one-on-one is widely seen by language students as the 'best' kind of lesson, and they come at a premium reflecting that. The lesson plans vary by individual student, from very scripted textbook lessons to completely freeform teaching.



What to expect:
When buying one-on-one lessons, students often can choose their teachers – which means you'll need to more carefully manage your 'image' in the school and compete with other teachers for students. This sink-or-swim aspect can become pressure, but the looser structure and more intimate lesson appeals to many.

The lessons themselves can be quite different just by the individual, so teachers who can think on their feet and draw on their strong knowledge of English can really shine. You'll want to work on your own note-taking, as tracking and catering to your students goes a long way.

In practice, lots of eikaiwa work involves a mixture of these types. And, there are countless other types of lessons out there – from corporate English coaching and private tutoring, to proofreading, phonics lessons, and workshops (maybe we'll look at those in a future article…). 



So, which type speaks most to you? Good luck in your job search – the perfect job is out there!